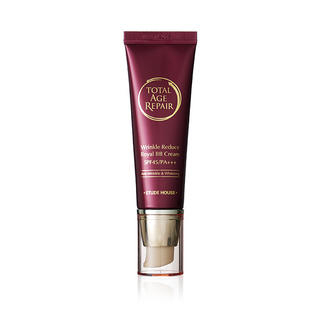 Hi everyone, i am coming back with another BB Cream review. I am such a bb cream fan :). This one is from Etude House - total age repair. This review is based on samples that i use for a week
This product claims to have a wrinkle reduce effect. Well, not exactly compatible for my 20 ish skin because skin in my age is still good.
The BB cream has a light texture and sheer coverage. At first it turn out to be grey tone just like another BB cream, after awhile it matches my skin tone perfectly, giving it brighter and smoother look.
When i use it, i notice a small fragrance. So, please be careful for you who has sensitive skin. But overall, this bb cream doesn`t give any bad effect unto my skin.
The oil control is so so, around three hours lha. Somehow, when i blot, the bb cream comes off a little bit and makes my skin looks uneven. Does this happen to you too?
I will go for FUN now. Today after an online meeting, my boss in Singapore suddenly giving me a day OFF yuhuuu!. Good things happen to me today. Since the opportunity like this doesn`t come often. I should probably go now and seize it. See you later fabulousista!